Where are your photos? Your computer? Your phone? Facebook? In a box in Nana's closet? All of the above?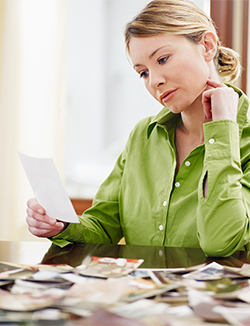 Let me organize your pictures from anywhere and everywhere.  I will upload and sort them in the cloud and then create accessible, family-focused photo projects so you can enjoy and share your photos like never before.
Sure, you can drop off a manila envelope to a camera store and they'll digitize images–but they won't sort through them, identify who is in them, organize them chronologically or turn them into a keepsake.
I can bring my portable scanning equipment to your home and upload, tag and save your digital photos (or I'll take 'em away and do it at my house.)  We work closely together to figure out how best to showcase your images and memories–keepsake books, albums, collages, photo-printed items or DVDs.
(Quote here)
Combining my skill as a professional organizer with my design eye, I am able to curate and categorize your images and help you find creative ways to let your images shine.
When you've got a special anniversary, birthday or other occasion that needs celebrating, you'll never find a more thoughtful and customized gift than creating a special photo project with me.